Ever since SEMA, our customers have been asking for a 5-lug version of the GT1 monoblock. Well...here it is. Meet the new Forgeline one piece forged monoblock GT1 5-Lug with "hidden" lug seats that maintain the distinctive long spoke design of the original GT1. See more (including sizes and pricing) at:
http://www.forgeline.com/products/one-piece-monoblock/gt1-5-lug.html
"Hidden" lug seats virtually disappear behind the spokes and preserve the long spoke design of the original GT1 center lock.
I-beamed spokes contribute to lighter weight, greater fatigue strength, and enhanced deflection stiffness.
One piece forged monoblock construction means that this entire wheel is cut from a single solid block of forged 6061-T6 aluminum.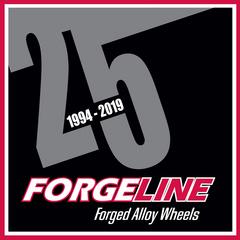 Keywords
Sign up to add your own keywords